Recently in Worcester, some 65 vehicles skidded and slid into each other on a frozen stretch of I-290. A mangled mess of jack-knifed tractor-trailers, smashed passenger cars and shattered glass cluttered the freeway for hours as officials rushed some 35 seriously injured people to the hospital.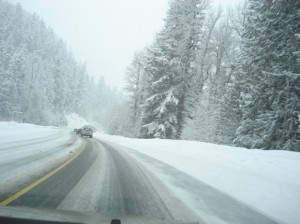 A Massachusetts state trooper was later quoted as saying, "The road was a sheet of ice."
Amazingly, no one was killed.
Boston car accident lawyers at the Law Offices of Mark E. Salomone are aware of numerous other similar incidents of mass casualty collisions across the country this winter season, as record snow storms and freezing temperatures have swept across New England, the Midwest and even the South.
USA Today recently reported that since Dec. 1, 2013, there has been at least one multiple-vehicle pileup somewhere in the country every single day. The article defines "multiple-vehicle" as 10 or more.
Last year, there were 107 chain-reaction crashes on U.S. roads, or an average of about two each week. There have been about half that already reported just in the last 2.5 months.
Drivers can't control the weather, of course, and of the pile-ups that occurred last year, analysts say more than 60 percent were brought on by bad weather. Still, authorities report the majority of these situations could be avoided if motorists weren't traveling too fast for the conditions.
Slow Down if the Road Conditions Are Bad
Too many drivers take posted speed limits literally at all times. But that's only the speed one should travel if the conditions are optimal - during daylight, when the air is clear of fog and dust and snow and the roads are dry. In the midst of a major winter storm, drivers need to appropriately tailor their speed.
The fact is, even if it doesn't seem all that bad when you head out, motorists must anticipate the worst. In many of these cases, it's later reported that drivers are suddenly blinded by unexpected snow squalls or thrown out of control by sheets of black ice.
Beyond slowing down, the AAA offers this: Assume that the road ahead, just beyond where you can see, is blocked. Then tailor your driving accordingly.
Video Shows How Quickly Accidents Can Happen
Recently, video footage from a traffic camera showed how a pile-up unfolded, starting with three heavy lanes of traffic crawling through a snowstorm. Then, several fast-moving vehicles plow through traffic, skid, collide and block the road. Other vehicles don't have time to stop. Within seconds, more than 70 vehicles are piled-up and dozens of people are seriously injured.
The average economic cost for a critically injured accident victim is estimated at $1.5 million, according to the National Highway Traffic Safety Administration. In a lot of these cases, there may not be many fatalities, but there are almost always serious injuries.
In pursuing compensation for these injuries, victims often find the process difficult because it can be tough - absent video footage - to determine exactly who was at-fault or to what degree each party is at-fault (called comparative negligence). In some cases, insurance claims adjusters try to simplify the process by breaking down a massive wreck into several smaller crashes, each with its own liable parties.
With everything that can be at stake in these investigations, it's important that your rights and interests are protected, and that you receive the compensation you deserve.
If you have been injured in a Boston car accident, call 1-800-WIN-WIN-1 for visit www.marksalomone.com to contact a personal injury lawyer at the Law Offices of Mark E. Salomone.