Valentine's Day accident raises important legal questions
On February 14th, a Google self-driving car was involved in an accident while in fully autonomous mode – a crash that Google admits was at least partially its software's fault.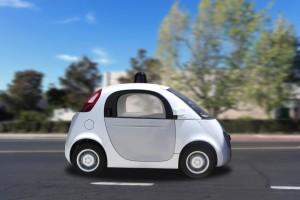 The accident happened when the self-driving Lexus was blocked by sandbags placed around a storm drain while attempting to make a right turn. Needing to re-enter the center lane, the Lexus stopped and let several cars pass, then moved to go around the sandbags and hit the side of an approaching bus.
According to Google's statements, the self-driving car's software sensed the approaching bus, but predicted that the bus would slow or stop. The test driver in the autonomous car also believed that the bus would yield to the Lexus and did not take manual control of the vehicle.
Google acknowledged partial responsibility for the accident, stating that if their car hadn't moved, the collision would not have happened. The company will revise its self-driving software to expect buses and other large vehicles to drive more aggressively.
No one was hurt in the accident, but the autonomous vehicle suffered body damage to the left front fender, left front wheel and driver's side sensor.
Although this was not the first accident involving one of Google's self-driving cars, it was the first for which Google has taken partial responsibility. In each of the previous collisions involving self-driving cars, Google – as well as the California DMV – has blamed the other vehicle involved.
Google's records indicate that while this was the first instance of an autonomous car actually causing a collision, it wasn't the first time the software made such an error. In at least 13 previous instances, the test driver had to take manual control of the car to avoid an accident – and according to Google's simulations, the self-driving car would have been at fault for 10 of those accidents.
It's worth noting that most of those incidents were early in the self-driving car program, and Google intends to further refine the software to make the cars safer going forward. However, accidents may also rise as Google introduces the cars to busier roads and more challenging driving conditions.
Regardless, it's only a matter of time before another accident happens involving an autonomous vehicle.
Legal implications of a self-driving vehicle crash
Because regulations for autonomous regulations are still being worked on, it's unclear exactly how liability will work in the event that a self-driving car causes an accident that injures or kills a person. However, an experienced attorney knows there are signs that these cases may not differ too much from cases involving human drivers.
Statements from the National Highway Traffic Safety Administration (NHTSA) indicate that the self-driving system itself, rather than any occupant of the vehicle, will be considered a "driver" under federal law. If the self-driving system were to cause an accident, then the car – and thus Google – could be held liable for any damages caused.
In California, where the recent accident took place, regulations require autonomous vehicles to have manual controls and a human operator ready to take control of the car to avoid an accident. Under those laws, the human driver could in principle be found negligent for not taking control of the vehicle to avoid a collision – which, again, is exactly what happened in the February 14th accident.
Another possibility is that injuries caused by a self-driving vehicle could be covered under product liability law. Google's stated goal is to make its autonomous cars safer than human-operated vehicles, but the design has a long way to go before that becomes a reality. If Google's product turns out to be less safe than intended, the company could be held liable for any damage it causes.
As the NHTSA moves toward establishing regulations for self-driving cars at the federal level, we'll know more about how liability for accidents involving autonomous vehicles will be handled. It's clear, however, that Google's self-driving cars – and Google as a company – have the same legal responsibility to keep the road safe as human motorists, and will be held accountable if that responsibility is not met.